Felicity Huffman of 'Desperate Housewives' gets 14 days in prison during the college admissions scandal.

She is guilty for paying to improve her eldest daughter's SAT scores.

We are still waiting on a decision for 'Fuller House' star Lori Loughlin, who did not take a plea deal.
Following the college admissions scandal involving Felicity Huffman and Lori Loughlin, we have been long-awaiting the decision. Huffman was officially sentenced to 14 days in jail for paying to have her eldest daughter's SAT scores improved. She will also have to pay a $30,000 fine and will be under a full year of supervised release.
Huffman did plead guilty to fraud charges earlier this year, while Loughlin did not take a plea deal. Huffman's daughter was allegedly completely unaware of what her parents were doing.
Felicity Huffman gets 14 days
Huffman's actions were made public after the FBI sting operation "Operation Varsity Blues" identifies the actress among several other wealthy celebrities who bribed their kids' way into university. According to Vice, some people actually pay as much as $75,000 to try and get their kid accepted into the school.
15 of those 34 parents have taken a plea deal, including Huffman. Her sentence was allegedly going to be more, but her attorneys negotiated a deal (one-year probation and 250 hours of community service). This is because Huffman apologized for her actions.
She pens an apology letter for her actions
Huffman writes an apology letter to Judge Indira Talwani who would ultimately decide Huffman's final sentencing. In the letter, Huffman says she did what she did on the recommendation of a friend and felt she "felt an urgency" to help her daughter. Her daughter apparently has attention-deficit/hyperactivity disorder and was receiving poor math scores.
Huffman ultimately fears she would be a bad mother if she didn't try to help out in some way. She says she considered doing the same for her younger daughter but later decides not to.
She says she just wants to be a "good mother" to her daughters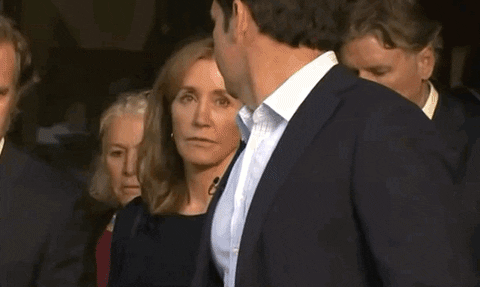 "In my desperation to be a good mother, I talked myself into believing that all I was doing was giving my daughter a fair shot," Huffman says in the letter. She would also apologize in court, publicly, after Eric Rosen, an assistant U.S. attorney, addresses the judge by saying "there is no excuse for what she did."
As mentioned before, Loughlin did not take a plea deal. However, if Huffman gets 14 days with a plea deal, this means it could be a lot more for Loughlin. We are still waiting on an exact answer for Loughlin's anticipated jail time.