Peter Fonda dies of respiratory failure following a battle with lung cancer at age 79.

His family confirms the news in a public statement. 

Fonda is best known for his work in the 1969 classic movie Easy Rider.
It has sadly been reported that Peter Fonda, son of Henry Fonda and brother of Jane Fonda, has died at the age of 79. The cause of death was confirmed to be respiratory failure due to lung cancer. The family releases an official statement confirming the sad news.
"It is with deep sorrow that we share the news that Peter Fonda has passed away," the family shares to the public. "[Peter] passed away peacefully on Friday morning, August 16 at 11:05 a.m. at his home in Los Angeles surrounded by family."
Remembering Peter Fonda
The family continues, "The official cause of death was respiratory failure due to lung cancer. In one of the saddest moments of our lives, we are not able to find the appropriate words to express the pain in our hearts. As we grieve, we ask that you respect our privacy."
"And, while we mourn the loss of this sweet and gracious man, we also wish for all to celebrate his indomitable spirit and love of life," the Fonda family finished. "In honor of Peter, please raise a glass to freedom."
Peter Fonda was born on February 23rd, 1940. The star would spend his early years growing up alongside his older sister, Jane. He was then sent to boarding school at just age 6. His earlier years in the creative arts start in theatre, specifically at the Cecilwood Theatre in New York, in 1960. From there, he would find work on Broadway in the show Blood, Sweat, and Stanley Poole.
Fonda soon began to star in TV shows such as Naked City, The New Breed, Wagon Train, and The Defenders. Following his TV appearances, he would go onto star in films as an unconventional leading man of counterculture.
Fonda finds success in 1969 film
Fonda's biggest success comes in 1969 with the film Easy Rider. He would produce and co-write the film. His hard work on this project would earn Fonda an Academy Award nomination for Best Original Screenplay.
He would go on to direct a number of other projects for which he would earn a number of accolades for, including four Golden Globe nominations. He truly was an incredibly successful man!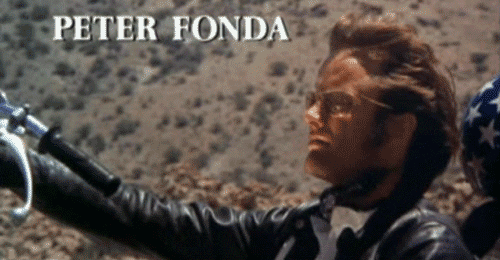 We will always remember Peter Fonda, especially in Easy Rider! What was your favorite Fonda film? Check out some of the best Peter Fonda and Jack Nicholson moments from the movie Easy Rider below.