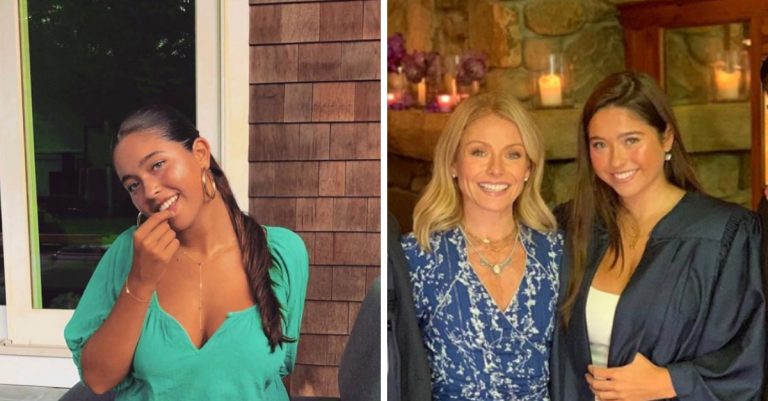 Kelly Ripa and husband Mark Consuelos love to brag about their kids. However, their children don't always want to be in the spotlight! 18-year-old Lola Consuelos, in particular, doesn't really love when her parents share photos of her. She seemingly must approve each and every post.
Kelly shared a rare photo of Lola on her Instagram page the other day. It was the first photo that she has shared since Lola graduated high school and went to prom. The newest photos of Lola are of her hanging out in the family's backyard, with a gorgeous green shirt on. She looks very relaxed and beautiful.
The newest photos of the beautiful Lola Consuelos
https://www.instagram.com/p/B0tjv7Lj8FB/?utm_source=ig_embed
Scroll through the arrows to see both of the new photos.
Kelly captioned the photo, "Middle child vibes #favoritedaughter," with a bunch of green heart emojis. While many of Kelly's famous friends commented, Lola also commented. She said, "And you are my favorite mom." How sweet is that? The two seem to have a really great relationship overall.
https://www.instagram.com/p/Byqin9RjljE/
Many celebs wrote about how beautiful Lola is and how she got it from her mother. Fans also commented on the photo, and many joked about how Lola approved not only one, but two photos!
According to Pop Culture, one mother commented, "I'm very impressed! How did you get her to approve two photos, is it Christmas early? Please share your tricks Jedi Master so I can use them on my own daughter."
https://www.instagram.com/p/ByYWPlnjs2p/
Another said, "She hit the genetic jackpot. You and Mark probably should have had a few more just to populate the world with more beautiful people."
Kelly has joked in the past about Lola not approving photos for social media. On the photos of Lola and her prom date, Kelly caption the post, "Only took 20 hours" to get two approved photos from Lola.
https://www.instagram.com/p/BwpGdXvBqOH/
Kelly and Mark have three children. Lola is their only daughter. They also have two sons, Michael and Joaquin. What do you think about Kelly and Mark's kids? Isn't Lola gorgeous? We wish her luck as she heads off to college soon!
Ready for a funny story?